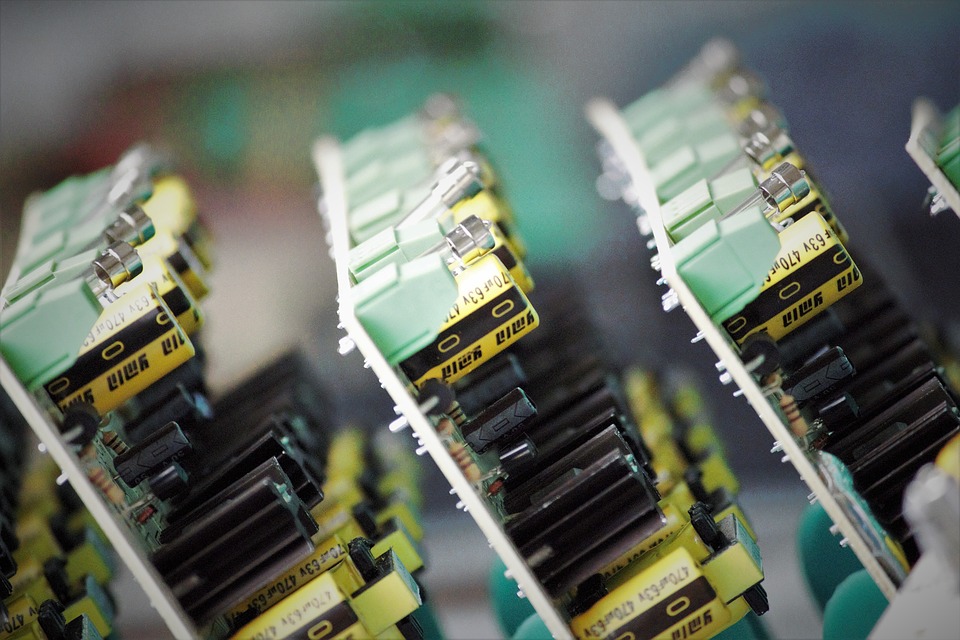 Have you ever encountered the situation that when you place an SMT order, the parts you need have not enough stock or no stock at all?
To solve this issue, JLCPCB provides the pre-order parts feature. It provide customers to set their own smt parts library. It allows you to order parts which are in shortage in advance and keep them in your private online parts warehouse, therefore you can get enough parts to be assembled anytime when you in need.
I will give a brief introduction about how to set you own SMT parts library in JLCPCB.
Step 1. Visit Parts Manager Page
Sign in to your account, enter your personal center by clicking your account name, and visit the Parts Manager page.

The parts you purchased will be listed on the "My Parts Lib" page.

Step 2. Parts ordering
By clicking "Order Parts", you can order parts from JLCPCB Parts Library.

For parts in the JLCPCB warehouse:
As JLCPCB needs to keep enough basic parts on the feeder, so the Basic Parts only can be pre-ordered, and there has a minimum order quantity. But normally the basic parts have enough stock, you don't need to pre-order them.

For in-stock extended parts in JLCPCB warehouse, no minimum order quantity is required. You can directly buy those in-stock parts and after you finished the purchase,the parts will show in you online private parts warehouse. You do need to worry about the shortage when you need it.

For non-stock extended parts in JLCPCB warehouse, you need to pre-order them, and there has a minimum order quantity.

For parts in the LCSC warehouse:
All parts have a minimum order quantity, and must be ordered in multiples. LCSC parts' price is estimated. JLCPCB will purchase parts you ordered from LCSC, then LCSC will ship them to JLCPCB warehouse.

Step 3. Parts Selection
Fill in the quantity you need; click the "Add to My Part Lib" button. The part will be added to the cart.
Step 4. Cart Page Checking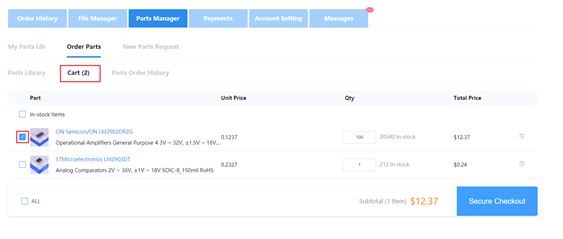 Step 5. Email confirmation
In the "Checkout" page, fill in your contact email address. JLCPCB will send the order status to your registered email address by default.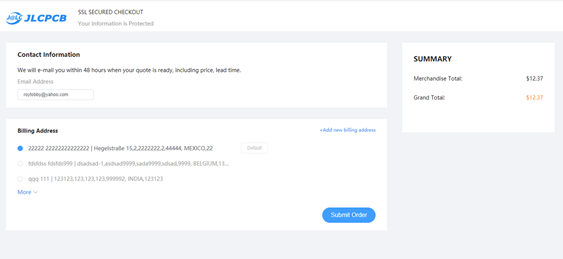 Step 6. Submit Order
This ordering process is quite simple and it provide many convenience for customers at the circumstance that parts shortage globally but please note that those parts are only used for your SMT orders you placed on JLCPCB, and they cannot be shipped separately.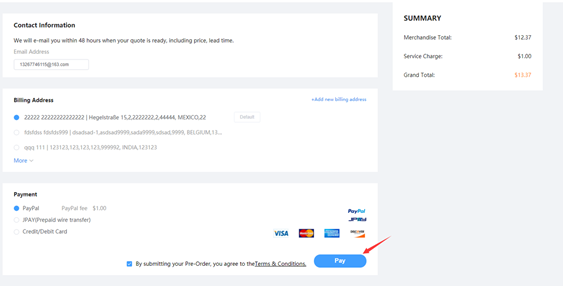 Step 7. Make payment
Please complete the payment within one hour, or the order will be canceled automatically because the parts' inventory may change each second.

Step 8. Order Status Checking
For in-stock items, the parts will usually be shown in your own library immediately after you make the payment.
For the pre-order items, the exact price will be confirmed within 48 hours after the initial payment is done. Money will be refunded or will need to be refilled, depending on the final quotation.

If you don't want to place SMT orders at JLCPCB, build your private parts warehouse many not a good idea, because inventory cost and pickup service fee are charged when you need to pick up the components, and it is quite high.
Now JLCPCB has special offer for SMT orders, no set up fee and will have $24 SMT coupon monthly. Register now to get special offer jlcpcb.com/CPA
EarnWithSocial.ca was not involved in the creation of this content. Information contained on this page is provided by an independent third-party content provider. EarnWithSocial.ca makes no warranties or representations in connection therewith.