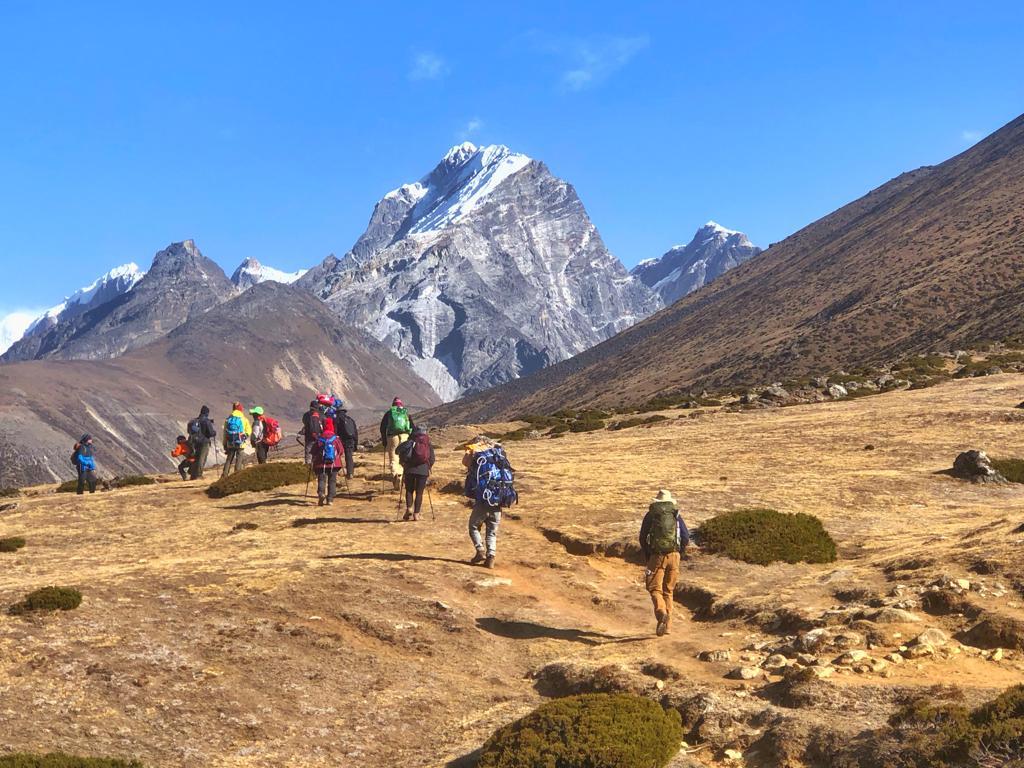 Since Nepal has eight of the ten highest mountains globally, there is no problem in declaring that Nepal is full of the best trekking trails. There are multiple beautiful treks in Nepal, ranging from the iconic Everest Base Camp Trek, Annapurna Base Camp Trek, Manaslu Trek to the Langtang Valley Trek, etc. There are trekking routes that range from 6 to 7 days to months. Each of them is certain to give a superior experience.
Here, we compiled a list of the Five Best Treks in Nepal and created a blog about them which will provide you with an instant description of the best treks in Nepal and guide you in deciding which trip to undertake.
1. Everest Base Camp Trek
Everest Base Camp Trek is the most popular trek in Nepal, which is ascended by almost a thousand trekkers each year. This trek takes you to the renowned foothills just beneath Mt. Everest, with stunning vistas of the Himalayan Range. Trekkers typically fly from Kathmandu to Lukla to feel fresh and energetic before Everest Base Camp Trek. Nevertheless, trekking to Lukla can also be done on foot.
This trek is considered moderate in terms of difficulty. It is suggested to do some exercise and appropriate acclimatization before venturing the 'Everest Base Camp Trek.'
The Everest Base Camp trek is one of the most memorable treks globally, with a strange mixture of natural beauty, unique culture, rich vegetation, and genuine Nepalese hospitality from the locals of the Solukhumbu region.
2. Annapurna Base Camp Trek
The Annapurna Base Camp Trek, one of the world's most iconic and classic treks, offers breathtaking mountain views and the opportunity to experience a typical Nepali village, local people, and their way of life in Nepal's Himalaya. The Annapurna Base Camp route passes through stunning and quiet scenery, lovely Gurung and Magar villages, dense Rhododendron, and highland forests to the trek's ultimate and final goal, Annapurna Base Camp (4130m).
On your way to Annapurna Base Camp, you'll pass by a Jhindu Dada with natural hot springs. Bathing in natural hot springs amid the mountains is one of the trek's main attractions.
3. Everest Three Passes Trek
The Everest Three High Passes Trek is the ideal adventure trek for excitement seekers and adventurers in the Everest region. You will not only reach Everest Base Camp on this trek, but you will also cross through the Khumbu's three highest passes: Kongma La Pass (5,535 m), Cho La Pass (5420 m), and Renjo La Pass (5,340 m).
The Everest Three High Passes Trek is one of the world's most challenging journeys, taking you deep into the Everest region. You can see what's around Everest and how the terrain rises to form the highest mountain. The walk is strenuous and gives a better image of the rough terrain, chilly environment, and ongoing human struggle at high altitudes.
4. Ghorepani and Poonhill Trek
Ghorepani and Poonhill Trek is one of Nepal's famous short treks in the Annapurna Region. In a short time, you'll pass through picturesque local villages, rhododendron forests, and, of course, terraced slopes. Poonhill offers the spectacular view of sunrise and sunsets and the beautiful scenery of famous peaks such as Dhaulagiri, Nilgiri, Annapurna I, and Annapurna South.
This trek is ideal for families and first-time trekkers who wish to see the Himalayan views of renowned mountains while staying in comfortable accommodations and eating delicious meals.
5. Langtang Valley Trekking
The Langtang Valley Trek path, which rises quietly through steep rangelands and softwoods, is the ideal elevation for young to old trekkers. You will encounter attractive waterfalls, magnificent highlands Himalayan views, snow-covered miracle peaks, and a great view of Yala peak, Motomori peak Langtang Ri, and Langtang Lirung while on your short Langtang Valley Trekking.
The Langtang Trek is rated as a moderate hike. It's a terrific way to start hiking in the Himalayas, especially if you're worried about higher-altitude adventures. Anyone with essential fitness and commitment can accomplish the Langtang Valley Trek.
Are you looking for a travel agency? Nepal Hiking Team stands out from the rest by creating unique itineraries and handling all of the logistics so our clients can focus on the expedition. Since our company's inception in 2009, we've spent years polishing our services and packages, establishing ourselves as authentic travel and tourism specialists.